We Set-Up every guitar before dispatch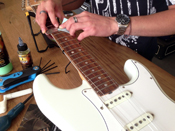 Click here for more information.
Product Overview
The Kinsman KGS 'DUAL-STOOL' is a unique combination of instrument stand and stool for the performing musician, home/studio player or music shop use.

Weighing only 3.6kg the 'DUAL-STOOL' is lightweight and portable and easily collapses for storage.

It will hold most electrics, acoustics and basses safely with its unique retractable neck cradle which is fitted with a safety catch so your instrument won't be knocked out of the stand.

Sit on the slightly angled large comfortable padded seat and your in the ideal playing position, there's even a foot rest to enhance your playing comfort and posture.

The 'DUAL STOOL' is solidly constructed and offers excellent stability. All instrument contact points are also covered in protective foam tubing so your guitar won't get dinged or scratched.
Product Details
Ideal for home, stage or shop use.
Portable and lightweight.
Collapsible - Folds flat for transportation and storage.
Universal Guitar Stand - Suitable for most electrics, acoustics, bowlbacks and basses.
Unique retractable neck cradle with safety catch.
Large padded seat, slightly angled for comfort.
Foam tubing for instrument protection on folding support arms and neck cradle.
Foot rest for enhanced playing comfort and posture.
Robust non-slip feet.
Solid, metal construction, offering excellent stability.
Weighs only 3.6Kg/8.1lb.